RUCONEST provided rapid and sustained symptom relief1-5 1-5
Study 1 results: Significant reduction in median time to beginning of symptom relief based on TEQ1,2 1,2 ,a
42% of placebo patients (13 of 31) received rescue medication vs 11% of RUCONEST patients (5 of 44)1 1
RUCONEST was available for all patients as rescue medication
Studies 2 and 3 pooled results: Significant reduction in median time to beginning of symptom relief based on VAS4 4,c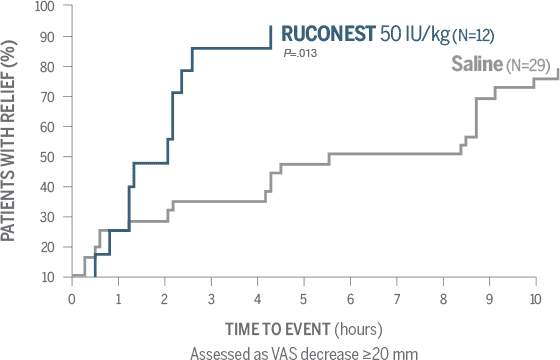 Adapted from Zuraw B, Cicardi M, Levy RJ, et al. Recombinant human C1-inhibitor for the treatment of acute angioedema attacks in patients with hereditary angioedema. J Allergy Clin Immunol. 2010;126(4):821-827.
TEQ, Treatment Effect Questionnaire; VAS, visual analog scale.
aData from a randomized, double-blinded, placebo (saline)-controlled, multicenter, multinational study of patients (N=75) aged ≥13 years (in North America) and aged ≥18 years (outside North America) presenting with an acute HAE attack. Patients were treated with RUCONEST (50 U/kg for those weighing <84 kg or 4200 IU for those weighing ≥84 kg; n=44) or placebo (n=31). The primary endpoint was time to beginning of HAE symptom relief by patient-reported TEQ. An open-label extension phase following the trial was comprised of 44 patients receiving RUCONEST 50 U/kg for multiple attacks. Patients scored their symptoms using a VAS ranging from 0 to 100 mm. Life-threatening laryngeal attacks were excluded from the randomized controlled phase of study.1,2 1,2
bIf a patient received a medication that could have impacted the efficacy evaluation or open-label RUCONEST as rescue medication, prior to achieving the beginning of relief of symptoms, the time was censored at the last assessed time prior to medication use.1 1
cThese results are an analysis of pooled study results from 2 similar independent, randomized, saline-controlled, double-blind studies. The primary endpoint was time to the beginning of relief of symptoms compared with saline assessed as VAS decrease ≥20 mm.4 4
HAE symptom relief visually demonstrated in a clinical study participant over a 24-hour periodd
In the study, patients were required to be experiencing a moderate to severe HAE attack for less than 5 hours prior to the start of RUCONEST therapy.6 6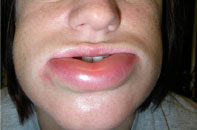 1 hour prior to dosing
Time of dosing
30 mins post-dose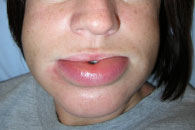 60 mins post-dose
2 hours post-dose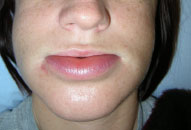 4 hours post-dose
8 hours post-dose
24 hours post-dose
RUCONEST successfully treated this patient's attack with just 1 dose
dThis is an actual patient. Individual results may vary.
achieved symptom relief with just one 50 U/kg dose of RUCONEST (n=44)1 1
Most RUCONEST patients were symptom-free for at least 3 days (post hoc analysis).5 5,e

A tailored therapy for your HAE patients
Jonathan A. Bernstein, MD
University of Cincinnati and Partner at
Bernstein Allergy Group, Inc., Cincinnati, OH
eBased on a post hoc analysis of pooled data from the randomized controlled trial and open-label extension phases of 2 studies involving 127 patients aged ≥13 years treated with RUCONEST 50 U/kg for acute attacks of HAE. Data for 72 hours available for 68 of 127 patients.5 5